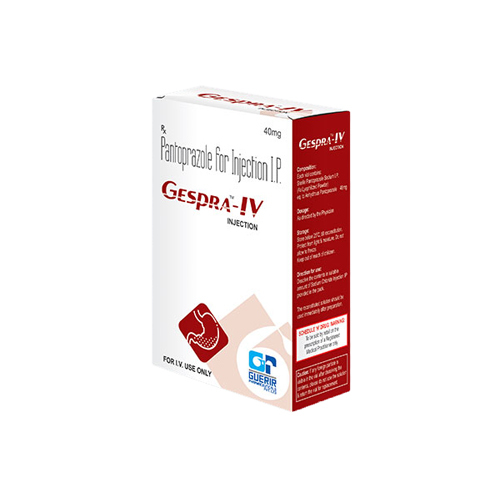 Product Description
Pantaprazole Injection IP
COMPOSITION: Every vial comprises Pantoprazole 40mg
INTRODUCTION: Pantoprazole is a precise obstructer of the gastric H+ K+ ATPase enzyme that is accountable for gastric acid ooze by the parietal cells of the stomach.
INDICATIONS
Gespra-40 Tabs/ Inj are directed for the treatment of disorders where a decrease of gastric acid secretion is essential, such as the following:
Gastric ulcer
Reflux esophagitis
Duodenal ulcer
Symptomatic gastro-esophageal reflux disorder (like, acid regurgitation and heartburn).
Helicobacter pylori related duodenal ulcer Pantoprazole, in mishmash with clarithromycin and metronidazole or amoxicillin, is specified for the cure of patients with an active duodenal ulcer and are H. pylori positive. Clinical studies using mixtures of pantoprazole with suitable antibiotics have specified that such combinations are effective in eliminating H. Pylori
DOSAGE & ADMINISTRATION: To be sold only by retail on the prescription of a Registered Medical Practitioner. The dosage should be taken as prescribed by the physician.
PRESENTATION: Vial of 1g (10ml Sterilised Water for Injection)
Contact Us
G Block, Community Centre Pvr, Vikaspuri, New Delhi, Delhi, 110018, India
Phone :+918061881874