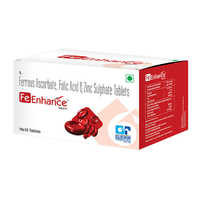 Ferrous Ascorbate Zinc Sulphate Tablets
Product Description
Ferrous Ascorbate Zinc Sulphate Tablets
COMPOSITION: Each tablet comprises Ferrous ascorbate 100mg, Zinc sulphate22.53mg and Folic acid 1.5mg
INTRODUCTION: Anaemia happens when your blood has a lower level of red blood cells (RBCs) than normal. Iron shortage anaemia is the most general kind of anaemia, and it happens when your body doesn't have sufficient of the mineral iron. Your body wants iron to form a protein called haemoglobin. This protein is accountable for taking oxygen to your body's tissues, which is imperative for your tissues and muscles to work efficiently. When there isn't sufficient iron in your blood stream, the remaining of your body can't obtain the amount of oxygen it desires.
Anaemia is a general condition and can happen in women and both men of any age and from any cultural group. Some individuals may be at superior risk for iron shortage anaemia than others.
These comprise:
Pregnant women

People with poor diets

Women of childbearing age

People who donate blood often

Infants and children, particularly those born prematurely or facing a growth spurt

Vegetarians who don't substitute meat with other iron-rich food
Iron supplementation can aid reinstate iron levels in your body.
INDICATIONS: Iron deficiency anaemia
DOSAGE & ADMINISTRATION: One tablet daily following meals or as advised by the physician.
PRESENTATION: 10 strips each of 10 tablets each in a carton
Contact Us
G Block, Community Centre Pvr, Vikaspuri, New Delhi, Delhi, 110018, India
Phone :+918061881874